In mid July I was contacted by Terrence James Coffman about participating in the SRAM pART PROJECT for World Bicycle Relief.
SRAM sent 50 artists a box of 100 parts.  Each artist had approximately 1 month to use at least 25 parts in a piece of art for auctioning.
1. I LOVE bicycles and I CAN'T RIDE THEM.  It drives me nuts nearly every day but I understand what it means to bring bikes to people in a useful and practical way.
2. This is a great cause.  In fact I would encourage you to learn about it and donate in some way.  If you would like the piece I made it will be auctioned online here after it shows at a juried show in Chicago and the Interbike International Bike Show in Las Vegas. Proceeds will be used to send bikes to Africa.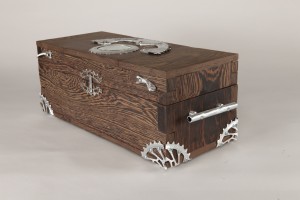 This box is made out of Wenge Wood Which is an African hardwood.  Dust from the wood can cause respiratory problems and drowsiness (I found out the hard way) through it's commonly used for instruments and furniture.
The metal is all bike parts.  Some parts got stripped down and flattened to metal plate.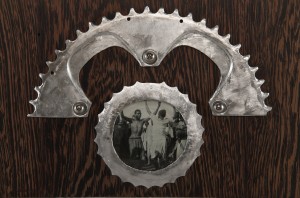 The top is bike parts, clear beveled stained glass, and an image from an early 1920′s National Geographic of people dancing in celebration. There is an inscription across the top that reads 'When the music changes, so does the dance.' which is an old African proverb.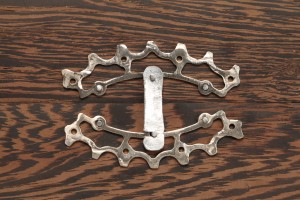 Front latch to hold it closed.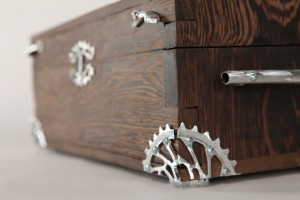 The handle on the sides and front are bike parts as well as the feet.  The box is built to be smooth like an old farm house floor worn by feet.  There are gaps and spaces but it is smooth and wavy in texture.  You can run your hand over and feel the smooth long drops and raises in the wood.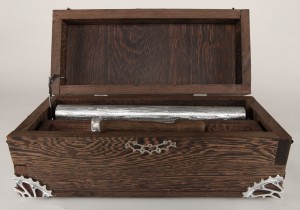 The box has a bell inside made out of a front fork.  It's floating on an aluminum and leather based.  The hammer is hand carved and is sitting on a suspended shelf.  The way the shelf and base are situated create a port and amplify the sound.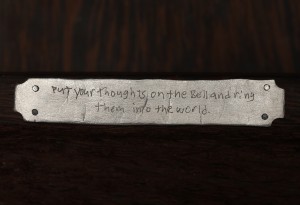 'Put your thoughts on the bell and ring them into the world'…  Release your stress or spread your happiness with a single strike. Create music in the room around you and influence the dance of shuffling feet and murmurs.  This piece is meant to live in a home or a small public space where it can be used and rung frequently to let go and spread whatever needs to be let go and spread. It's meant to remind the user that what they project creates motion in the world.
This was a very fun and challenging project to work on.  I hope it serves its purpose and helps raises awareness and money for the World Bicycle Relief organization… I also hope it helps people in Las Vegas and Chicago focus their thoughts and ring them into the world…
photo: isaac wasuck