Union Syringe —  This is a pure silver necklace with a mounted silver backed crystal from a vintage chandelier.
It is in a 1897-ish Goodyear Union Syringe No 7. Box. Union syringes were used for douching. "Union" referred to the sexual union between a man and woman. The box has full instructions on use of the syringe in 4 languages.
The quote inscribed on the brass plaque reads "WE CARRIED GARBAGE BAGS FULL OF FLOWERS AND SNEAKED UP THE STAIRS INTO THE KITCHEN, WHERE THEODOTIA WAS GRUMBLING TO A WALL. WE PROCEEDED TO DUMP FLOWERS OVER HER UNTIL SHE WAS NO LONGER VISIBLE. THEO, WHO HATES EVERYTHING, WAS RADIANT. SHE WAS ROLLING AROUND IN THE PILES OF FLOWERS WITH A ROSE IN HER MOUTH HAPPIER THAN I'D EVER SEEN HER."
This is from Aaron Cometbus's book Double Duce.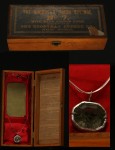 **SOLD**
photos isaac wasuck